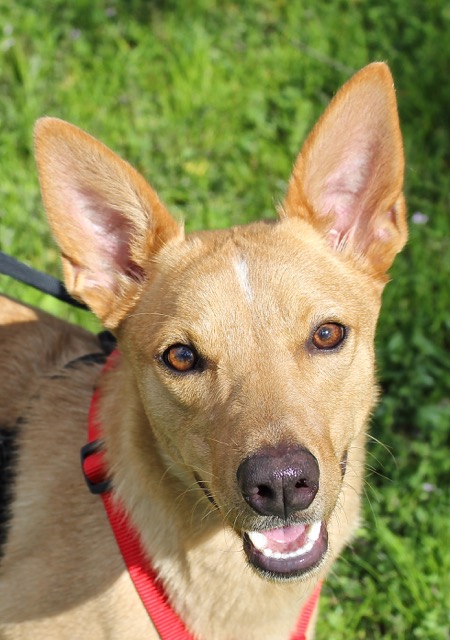 Meet Ellie!
Elle is a 1.5 year old, 33 lb. tan and white Carolina dog blend.
---
Breed: Carolina Dog Blend
Sex: Female
Size: Medium - 33 lbs.
Age: 1.5 year
---
Meet Elle! 
Elle is a 1.5 year old, 33 lb. tan and white Carolina dog blend. 
Looking for hiking, running or biking partner with amazing athletic talent? Consider Elle. 
True to the Carolina dog personality, she is a strong-willed girl who requires consistency and structure in her life. She is a medium energy intelligent, coordinated and already has a significant vocabulary. Elle came in with no training and in 4 short weeks she has learned sit, down, wait and gives the paw. Her foster mom says she has become a tennis ball maniac and will retrieve and put it right by your feet for the next go round.  She is also excellent with the Frisbee. Her ability to focus on the task at hand whether it is a tennis ball or Frisbee is nothing short of amazing. 
Elle is looking for an active family that enjoys long walks, hikes or other outdoor activities and is willing to continue her training. A family with older children would be fine and someone interested in obedience would find her a winning partner. She gets along with dogs her size and smaller. She has shown some leash reactivity with larger dogs but is doing quite well with training. 
Elle has had 3 months of training under the guidance of a certified trainer with working dog experience. Her training has included basic and advanced obedience, wait with challenges, city challenge and others. Her basic commands are solid! Elle is a loving girl who is a diamond in the rough who will only get better with time and training.  
Elle's adopter should be someone who has Carolina dog or working dog experience with and is willing to continue her training. 3R Rescue will sponsor 5 additional lessons with her current trainer or 3R approved trainer. 
Elle is not suitable for an apartment. She would thrive in a country or ranch setting. 
She is spayed, micro-chipped, and up to date on all shots.  For more information go to www.3rrescue.org or phone 707-529-4643 or email: adopt@3rrescue.org.
 
---
---
Interested in adopting?
Submit a 3R Adoption Application today.
For more information call: 707-529-4643 or email: Adopt@3Rrescue.org