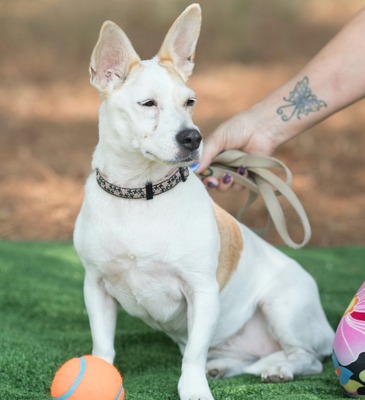 Hi! My name is Samantha!
I am a sassy and sweet 10 year old, 24 lb. Jack Russell/Corgi blend.
---
Breed: Jack Russell/Corgi
Sex: Female
Size: 24 lbs.
Age: 10 years
---
I love to go for walks or just hang out.
I can co-exist with cats and dogs and don't mind kids either. I love to go for walks or just hang out. I am house-trained and have good house manners. Sam knows how to sit and shake hands. She walks great on a leash and rides good in the car.  I have had my physical and am in great shape.   
What might be the advantage of adopting me, you might ask? I have 'life experience'!! I won't chew up your favorite shoes or destroy the furniture. I sleep through the night and can be trusted alone in the house. 
So, no need to go through the hassles of having a puppy. Why not adopt me?
Note from Sam's foster mom: Sam is a funny gal who gets along with everyone. She is a very easy dog stand a pleasure to have around.
Samantha is spayed, micro-chipped, and up to date on all shots.  For more information go to www.3rrescue.org or phone 707-529-4643 or email: adopt@3rrescue.org.
---
---
Interested in adopting?
Submit a 3R Adoption Application today.
For more information call: 707-529-4643 or email: Adopt@3Rrescue.org