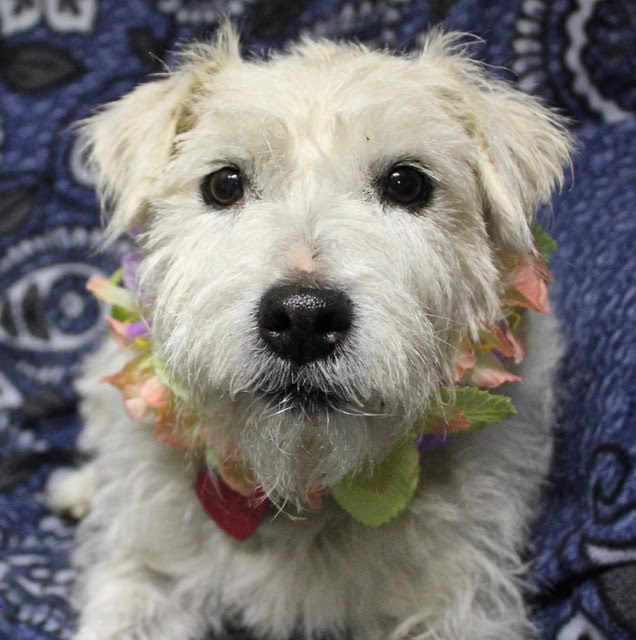 Meet Torrie!
This sweet senior tragically lost her home in the Napa Fire. She's a 14 year old purebred Jack Russell needing a new family to call her own.
---
Breed: Purebred Jack Russell (White and Tan)
Sex: Female
Size: Small /Medium
Age: 14 years
---
Torrie started out as a show dog and has her AKC and UKC championship titles. She was very much loved by her owner since she was young. In 2017 Torrie's owner's home burned down in the Napa fire. She had to be in a boarding facility for several months while her Mom went into temporary housing that didn't allow dogs. Almost one year later her Mom got their new place. Unfortunately the day after they relocated Torrie's Mom was called to Heaven. Torrie and her brother Monty went into foster with a family friend who could only keep them for a short time. Now Torrie is looking for a quiet home and a new family to love her and she can share love in return.
Torrie is a wonderful girl who is house-trained and is very easy to have around. She knows all her basic commands. Her hearing is slipping a little but no worries, she knows all her hand signals. She loves short walks and bones to chew. Most of all she loves the companionship of her human. She is happy to rest in her dog bed while you watch TV, read a book or cook dinner.
Torrie has had a rough couple of years and deserves to spend the rest of her days with the warmth and companionship that she truly deserves.
Please consider adopting this wonderful SUPER SENIOR! By welcoming an older dog into your family you are giving them the stability and family life that they so deserve and they will reward that kindness with their loyalty and love.
Torrie is spayed, generally healthy, micro-chipped, up to date on all shots, and current on all medical.
---
---
Interested in adopting?
Submit a 3R Adoption Application today.
For more information call: 707-529-4643 or email: Adopt@3Rrescue.org