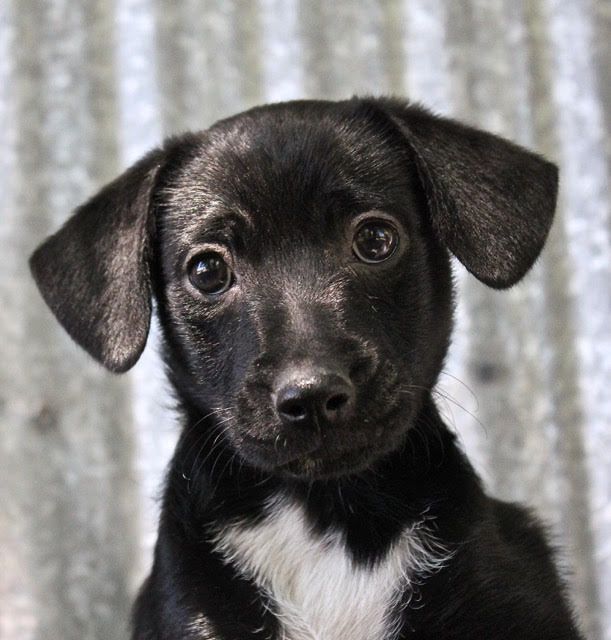 Meet Tux!
Meet Tux! He is a 9-week old, 3 lb. black and white Border Collie blend.
---
Breed: Border Collie Blend
Sex: Male
Size: 6.2 lbs (at time of posting)
Age: 9 weeks
---
Tux got his name because of the nearly perfect tie shape on his chest. He enjoys playing with a tiny tennis ball or running with a stuffed toy that is bigger than him, also rough-housing with his other 4 siblings. Tux is a very smart boy who loves people and is eager to please. 
Tux has learned to walk on a leash and has started to learn other basic commands. His foster mom has started house-training. The adopter must be willing to continue to ensure his success. Tux has not been around cats or small children. Tux should mature to be a small-medium size companion. DNA test results are pending.  
Tux's mom, Charlotte weighs 28 lbs., has a short smooth coat and has a wonderful, kind personality.
His adopter must agree to enroll in puppy classes to continue his training. 
He is up to date on his puppy shots.  He will be microchipped before he is adopted. Tux's neuter is included in the adoption fee at a 3R approved Vet clinic. For more information go to www.3rrescue.org or phone 707-529-4643 or email: adopt@3rrescue.org.
 
*Charlotte ~ Mom
---
---
Interested in adopting?
Submit a 3R Adoption Application today.
For more information call: 707-529-4643 or email: Adopt@3Rrescue.org