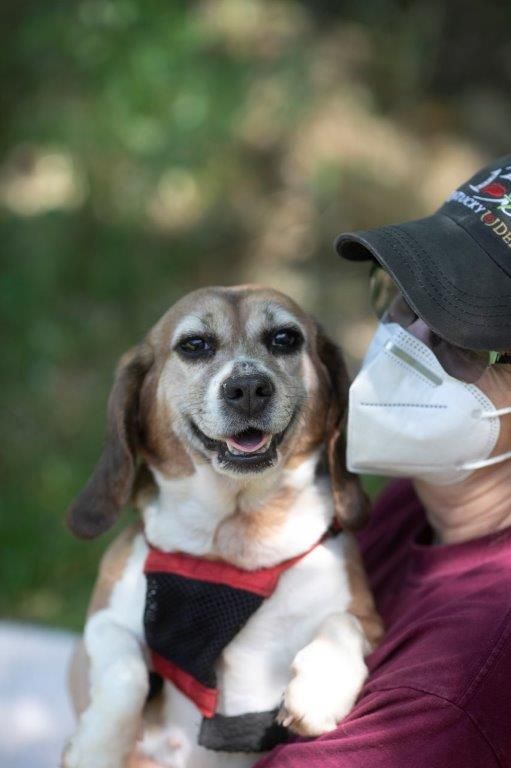 Gina (pending adoption)
Big, kind brown eyes that will steal your heart.
---
Breed: Beagle
Sex: Female
Size: 22 lbs.
Age: 5 years
---
Meet Gina! She is a 5 year-old, 22 lb. black/white/red purebred Beagle.  Gina is a happy and inquisitive girl who loves to run in the yard and play Zoomies. She is learning what toys are and starting to retrieve.  She enjoys walks, and rides in the car. She is house trained and easy to have around. She gets along with other dogs her size or smaller or would do fine as an only dog. She also gets along with cats.
She is eager to please and learns quickly. When you hold her, she will melt in your arms and look at you with her soft, kind brown eyes that will steal your heart away. Gina loves to snuggle at the foot of your bed at night or is content to sleep in her cushy dog bed.
Special Needs: Gina is normal and healthy in every way except that she was born with a vitamin B deficiency so she must be kept on a strict diet and will need to have B12 supplement shots for the rest of her life. The cost is minimal, and this is something that the owner can learn to do.
This little girl is looking for a quiet low/moderate activity family with no small children in the home. (Young visitors are fine.) 
She is not suitable for an apartment because she does bay or bark once and a while when she gets excited. 
Gina is spayed, micro-chipped, up to date on all shots, had a recent dental cleaning and bloodwork. Included in Gina's adoption is one year of the vitamin supplement and cost of bloodwork for recheck if needed. Do you think you are that special person for Gina?
 
---
---
Interested in adopting?
Submit a 3R Adoption Application today.
For more information email: Adopt@3Rrescue.org