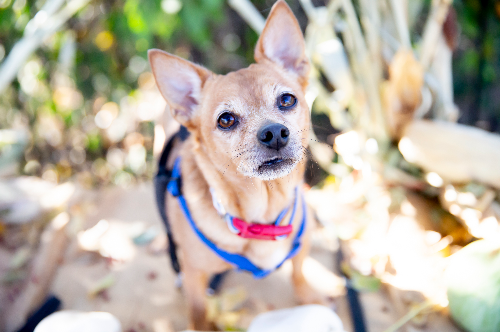 Meet Skippy!
Handsome, affectionate boy ready for love.
---
Breed: Pug/Chihuahua Blend
Sex: Male
Size: 12 lbs.
Age: 9 years
---
Skippy is a happy, loving 9 year-old, 12lb. Pug/Chihuahua blend. Skippy was adopted by his owner when he was a puppy. Now due to her health issues she can no longer care for him so all she wants is for Skippy to have a loving family who will enjoy him and care for him. Skippy is a sweet, kind and gentle boy who loves to be held and cuddled. He also loves to go for walks and rides in the car.  His foster mom says he has a great walk that can keep up with even the big dogs. He also has a funny side – he likes to run with a ball or toy and will play bow when he wants you to chase him. When it's time to go to bed, Skippy will burrow under the covers and settle in for the night. He is house-trained and knows how to use the dog door.
Skippy gets along with other dogs and cats. He would enjoy a companion that is about the same size and energy level. He also wouldn't mind having you all to himself.
Skippy is looking for a low/medium energy family with no small children. Wouldn't you love to have a companion that could go for walks, sit with you at the outdoor café, be your RV companion or armchair lap warmer?
Skippy is neutered, micro-chipped, up to date on all shots, had a recent dental cleaning and bloodwork. 
---
---
Interested in adopting?
Submit a 3R Adoption Application today.
For more information call: 707-529-4643 or email: Adopt@3Rrescue.org