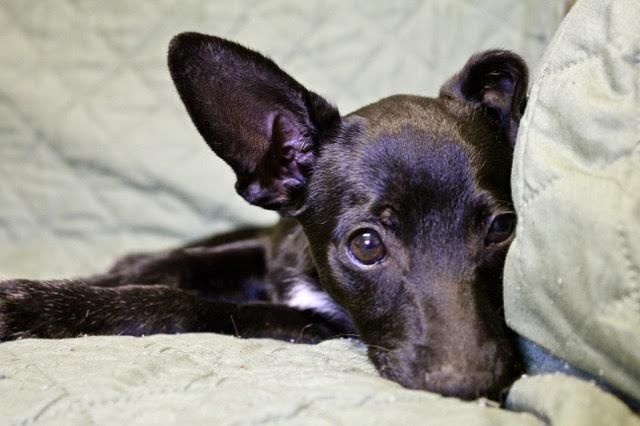 Meet Tucker!
Meet Tucker! Tucker is a 12-week old, 7.4 lb. black/white/tan Miniature Pinscher/Cocker Spaniel (DNA tested)
---
Breed: Miniature Pinscher/Cocker Spaniel (DNA tested)
Sex: Male
Size: 7.4 lbs (at time of posting)
Age: 12 weeks
---
Meet Tucker! He is a 16-week old, 10 lb. black/white/tan Miniature Pinscher/Cocker Spaniel blend (DNA tested). Don't let his serious look in his photos fool you. Tucker has an extraordinary personality – our volunteers and trainer use these words to describe him, "kind, sweet, smart, eager to please, funny and loving".  Tucker is a love bug who will look up at you with his soft brown eyes and whimper to be picked up so he can snuggle in your lap. He also enjoys playing with a tiny tennis ball or running with a stuffed toy that is bigger than him. Tucker enjoys playing with other dogs his size or a bit larger. 
Tucker has played a very special role during his time at his foster home. He has been mentor and companion to two other special needs dogs. One very shy and scared little girl became friends with Tucker. Tuck showed her that humans could be a 'good thing'. Little Joey puppy came in with a broken leg and needed a friend who would play gentle and snuggle with him. He was happy to accommodate! 
Tucker has learned to walk on a leash and other basic commands including sit, down, watch me and come. He is house-trained, sleeps through the night and loves to go for rides in the car. Tucker has not been around small children and would prefer a home with older kids. 
His adopter must agree to enroll in puppy classes to continue his training. 
Won't you consider this amazing pup to become part of your family?
Tucker is neutered, micro-chipped, and up to date on all shots.  For more information go to www.3rrescue.org or phone 707-529-4643 or email: adopt@3rrescue.org.
 
Watch my video:  https://animoto.com/play/kcmuSDRGDC5fTYm30J0DGA
---
---
Interested in adopting?
Submit a 3R Adoption Application today.
For more information call: 707-529-4643 or email: Adopt@3Rrescue.org