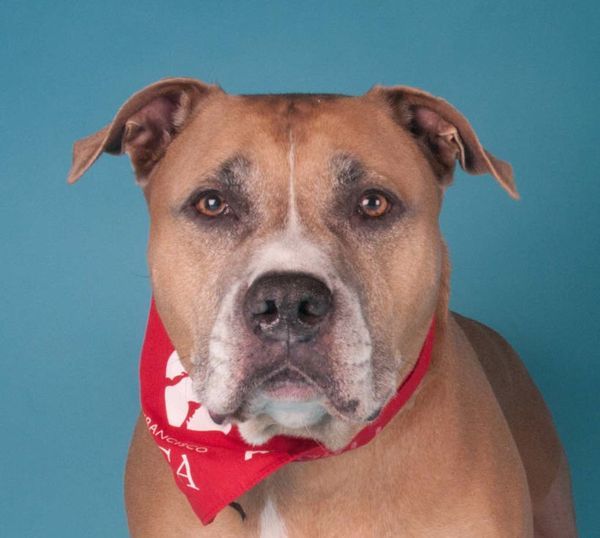 Courtesy Posting
This is NOT a 3R dog. It is available for adoption, but is being listed on our site as a courtesy to a partnering organization and/or community member.
---
Name: Gucci
Breed: Mix Terrier, Pit Bull
Sex: Male
Size: 88 lbs
Age: 8 years
---
People will think you have hit the jackpot when you have Gucci on your arm. This big, solidly built boy is a charmer who has his goofy side that will keep you smiling. Don't let his size fool you — he's *very* mellow indoors and saves his energy for outside.
Gucci is a good leash walker. He loves his time outdoors and if there is a big ball to play with he is in doggy heaven. It is adorable how much fun he has chasing it around. Gucci likes to approach you at his pace, but he warms up quite quickly and before long he is ready for loads of snuggles. He wants to live in an adults only home, with possibly older children who can understand his body language. Gucci is available at the Mission Campus. Come on down to meet this hunk!
Foster Parent update:
Gucci is doing wonderfully in foster, such a happy easy going guy! He is amazing on leash with all people and strangers, loves playing fetch and is very well behaved off leash. He is very house trained and can go long stretches without needing to go out. He has been so great in our small apartment, just napping away. He loves to chew his toys, but has never touched anything he shouldn't. He's a serious under the covers cuddler who loves to sleep in and is going to make someone an amazing new best friend.
Contact SF SPCA https://www.sfspca.org/adoptions/pet-details/42270012/