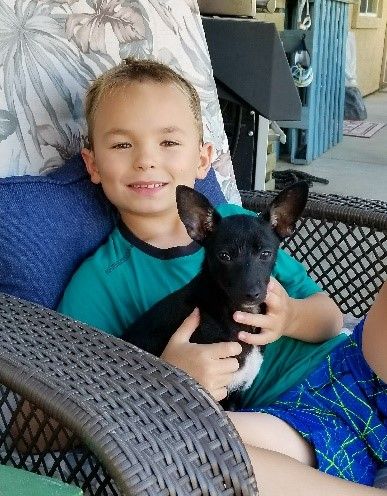 Luna's Success Story
Rescue: Luna, her litter mates, and her mom were saved from the 'kill room' at a high kill shelter. They were found laying on a cold concrete floor.  Only a couple weeks old, the 5 pups needed lots of care and attention that couldn't be provided at this shelter. They needed some place that had the time, space, and volunteers to take care of them.
Rehab: A lot of work goes into caring for 5 pups!  A few tasks done with Luna and her litter mates include monitoring health, cleaning the kennel (multiple times per day), feeding mom enough to keep up with growing babies, wearing and feeding 5 hungry bellies, performing puppy socialization protocols daily, and teaching each one basic obedience. Luna (and her siblings) turned into wonderful, playful pups!
Rehome: From Luna's Adopter - I can't believe it's been three months and I also can't imagine life without our sweet Luna.  She is the smartest dog we've ever had!  I think she actually understands English… She has become best friends with our 90 lb. lab and it's so fun to watch them playing together…  We absolutely love her to death!  Thank you so much for rescuing her and starting her life out right!!